We're as guilty of it as anyone: trotting out every ridiculously cheap flight from New York or Boston or Atlanta to some cool-ass European capital or coast and saying, eyes wide and spittle spraying, "Now's the time! Get to Europe!"
There's only one catch, and it's a big one. Even with the euro and the British pound scraping against historical lows vs. the US dollar (gyaaah! Seriously! Get to Europe!!) you still have to pay London prices once you touch down at Heathrow or Reykjavik prices when you pop by Iceland. And clearly if you were in the mood to scrape along like a peasant, you'd just apply to grad school.
But what if we told you — which, yes, we're literally telling you now — that you can hit truly world-class destinations that are cheap even when their currency isn't on markdown. That you can enjoy the finest Catalan food, the most calendar-worthy Mediterranean beaches, the time-worn castles and platinum lagers and free-wheeling Croats who make Europe a beloved destination for the world's travelers. And once you cover airfare, you can do it all for less than you'd blow on a normal weekend road trip.
We know, because we asked our stable of cost-conscious writers to pick their favorite spots to hit on the cheap. Here are the 18 European cities they recommend to anyone who'd rather pocket a euro than spend it.
?
Porto, Portugal
Why it's so cheap: The dollar and euro are nearly dead even right now and holding steady. Add Portugal's perennial status as Western Europe's top bargain to the equation, and you won't find any bloated price tags along this Atlantic shoreline. Lodging, chow, and booze typically wipe out a holiday budget, but you'll be styling in affordable mode at two- or three-star hotels near the city's medieval/romantic Old Town.
Why you should go: Clean and classy Porto is the heart and soul of Northern Portugal, a World Heritage City where even the McDonald's has chandeliers. Olden, narrow lanes offer unofficial landmarks like squeaky-floor bookshops, indoor-outdoor cafes where patrons converse sans iPhones, and alluring courtyard squares hiding behind every fa?ade. Portugal's pristine coastline and fondness for organic agriculture ensure that no traveler leaves blas? about its food, wine, or truffle butter.
Did we mention it's cheap? Imagine what you'd throw down at TGI Fridays for lunch, but instead you're sipping wine at a white-tablecloth riverside restaurant beside a fishing port, eating seafood so fresh it practically jumped out of the ocean like that. When you leave a tip here, you're a hero, and no one's expecting you to understand Portuguese. The gotta-do granddaddy of charms is Taylor's Port Wine Cellars. Founded in 1692 by a British trader, and family-owned since, it's the dank-but-swank dwelling where you'll finally find out what the hell "tawny" means. — Bruce Northam, American Detour
Berlin, Germany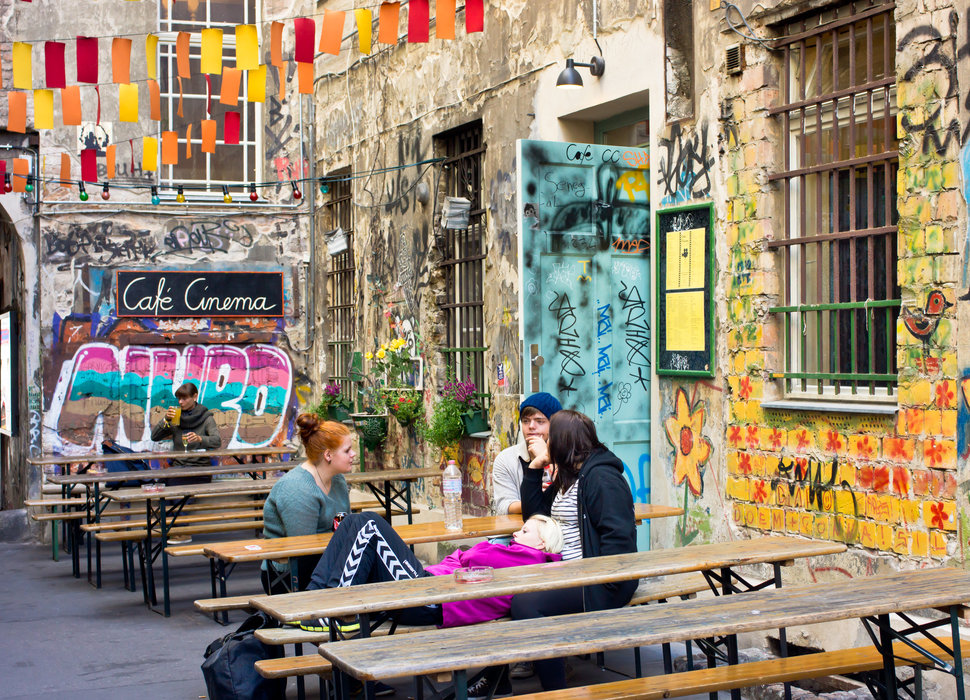 Why so cheap:?Berlin is by far one of the cheapest capital cities in Western Europe. It's also a paradise for budget-friendly travelers as it's an easy, walkable city. If you don't have the time for a leisurely stroll, a day ticket on the S-Bahn will set you back about $8. And accommodation is a dime a dozen as there's an abundance of cheap hostels costing between ?$15 and $20 a night. (You can also?book a few nights?in an Airbnb in Kreuzberg for about $50 a night if you?re feeling fancy. Because you saved so much on your lodging, you'll have plenty of euros to try out all the cheap street food — you can't beat a $3 kebab washed down with a can of beer you got at Lidl for less than a dollar. More elegant options including Pullman Berlin Schweizerhof are a wonderful way to immerse yourself in cultural and dynamic Berlin!
Why you should?go:?Berlin may be one giant party, but there's more to this diverse city than clubbing. It's really a chilled-out city with loads of parks, canals, flea markets, street art and food markets for those who don't want a wild nightlife. Take a break from sightseeing and instead make your way to Tempelhof Field, a former airport turned into a unique artsy outdoor space, in Neuk'lln for a day of people watching, brats and beer. — Yolanda Evans
Zagreb, Croatia
Why it's so cheap: The word might be out on Dubrovnik thanks to Game of Thrones, but Croatia's capital hasn't been completely overrun with tourists and tourist prices (yet). You can find a good Airbnb near the city center for as low as $35 or stay at the popular Swanky Mint Hostel for less than $15. The best way to get around is the tram — a day pass is $7 — or rent a bike through the nextbike system. The first 30 minutes are free and each hour after is just $1.

Why you should go: There's a lot more to do here than just wander cobbled streets and photograph old architecture. Zagreb has more museums per capita than any other city in the world — the Museum of Broken Relationships is a weirdie but a goodie. Also not to be missed is the Gri? Tunnel, which runs directly through the heart of the city and opened to the public less than a year ago. If you're there on a weekend, wear your coolest outfit and take part in ?pica (pronounced "shpitza") where locals get coffee and run errands on Saturday and Sunday mornings for the sole purpose of being seen.
Stop by A Most Unusual Garden, a cafe and bar that's also a treehouse, but set your sights on Mundoaka Street Food when you're ready to tuck into the traditional Croatian cuisine. Zagreb also throws one hell of a late-night party. Head to Opera for the best of the club scene (just don't show up before 1am). But be warned, the locals are likely to drink you under the table and may offer you flaming B-52 shots. — Hannah Freedman, Thrillist contributor
Tallinn, Estonia
he euro is so much cheaper than neighboring Finland that Fins routinely ferry across the Baltic Sea just to buy cigarettes. Slightly larger than Switzerland, this small country (1.5 million people) has a big outlook while the people have even bigger hearts. And you'll feel like a big shot buying them cheap rounds.
Why you should go: Estonia's architecturally brilliant capital city is one of the best-kept medieval towns on our planet. Tallinn's Old Town — an obvious UNESCO World Heritage Site — is also a renowned Hanseatic city, now with wireless. (The Hanseatic League was a medieval Northern Europe merchant alliance resembling an early European Union.) Encouraged by the collapse of the Iron Curtain, Estonia metaphorically waved bye-bye to the USSR in 1989 when 2 million Baltic citizens launched into a nations-wide (Estonia, Latvia, Lithuania) jam-band choir known as the Singing Revolution (a Baltic Woodstock). Today, merry outdoor festival-going still overshadows sport fandom as a national pastime. Song festival fairgrounds and their signature bandshell arches are everywhere. Despite the difficulties they've endured for hundreds of years, cultural traditions have kept Estonians together: Folk dancing, art, hearty cuisine, and storytelling over a few brews top the list. — Bruce Northam, American Detour
Prague, Czech Republic
Why it's so cheap: The secret is out on Prague, so prices have been slowly increasing along with the crowds of tourists. But despite its popularity, it still won't break your budget. For just $40 a night you can rent an Airbnb near the Old Town center. The city is small so you don't have to worry about paying for transportation; you can see basically everything on foot — unless you?ve had a little too much beer, which I won't fault you for because it bangs out some of the best drafts in Europe for under $2.
Why you should go: Walk through the early morning fog on the Charles Bridge (emphasis on early morning, before the hordes arrive) and you'll feel like you?re the star of your own spy movie. Prague is almost ineffably stunning, with winding cobblestone alleys, ornate Gothic and Baroque churches, and a fascinating mix of medieval and Communist history (the Museum of Communism, comically located next to a McDonald's, is an absolute must). It has the largest castle complex in the world, replete with torture chambers, as well as some of the oldest pubs and beer halls?in all of Europe. Wandering off the tourist track will reward you here. Explore Mal? Strana and take in the full glorious view of the city from the top of Pet??n Hill. Make sure you order some late-night sma?en? s?r (breaded fried cheese) off a food cart. If you?re looking for a unique and admittedly creepy place to have a pint, visit Bunkr Parukarka and drink inside a nuclear fallout shelter. Kafka would?ve bugged out for it. — Katie Lockhart, Thrillist contributor
There are MANY other amazing locations in Europe. Many of which can be visited on a budget. Next time we will discover & share 5 more Beautiful European Cities You Can Actually Afford to Visit Right Now!