When I moved to Portland in 2006, one of the very first things I noticed was the fashion. It was like, Hippie Fashion Then And Now all wrapped up in one.
Women in their 20's wore flowers in hair, long pastel & paisley skirts with leather hand-made sandals. And men, wow, they wore the tasseled leather jackets I remember seeing in pictures from Woodstock. Bandannas wrapped around theirs heads and thick black leather bracelets.? It was as if I was on a movie set for a 1960's era film.
HIPPIES ARE ALIVE AND WELL IN PORTLAND!
Hippies (derived from the word hipster) were the natural outgrowth of the Beat movement in the 1950s. Interested in an alternative lifestyle and rebelling against a society grown increasingly conformist and repressive, they were focused on freedom and getting back to nature.
Hip hugger bell-bottom jeans, preferably with fringe at the ankle and flower patches, were seen everywhere. Peasant blouses, T-shirts, or just a skimpy halter top all went well with jeans. Accessories were anything handmade, and many included peace symbols as the Vietnam War escalated.
Skirts and Dresses
In ladies' 60s fashions, the skirts and dresses were nothing like what was seen on runways. Not since the 1920s did fashion change so radically, and youth define what was acceptable. The hemlines that shocked conservatives in the 1920s nearly gave some people apoplexy in the 1960s, as girls with good legs sported mini and even micro mini skirts. A short skirt was worn with suede knee-high boots in cool weather, or sandals on hot summer days.
Dresses were either short and skimmed the body, or they were long, loose peasant or granny dresses. A peasant dress reflected a Renaissance maiden, and flowing ribbons in the hair and on the dress often enhanced the look. Of course, there were also flowers.
Popular Patterns
Two of the most popular patterns in hippie clothing were floral and tie-dye, but there were others that showed up time and time again in the free-spirited clothing they wore. There was usually quite a bit of color and the clothes could involve:
Psychedelic designs
Op art
Paisley
Stripes (even the bell-bottoms)
Advertisement
Flower Power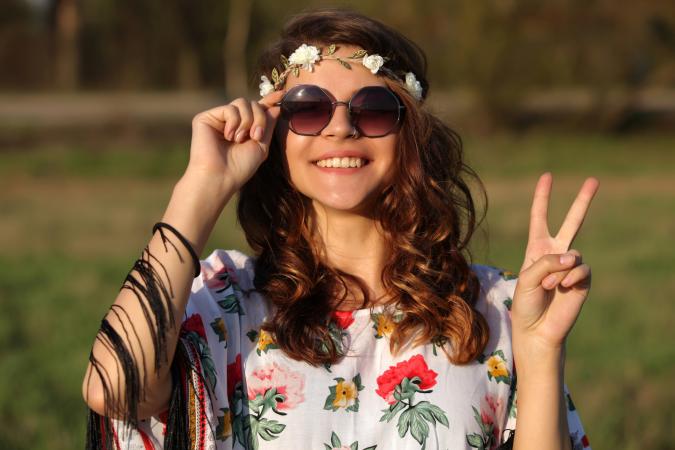 It's been talked about so much that it's now a cliche', or even a joke, but flowers were very emblematic of the hippie movement. Nothing represented peace and love so much as a flower, and they were everywhere. Floral patterns were popular on tops and dresses, and flower patches adorned skirts and jeans. Real flowers were worn in the hair, and flower images were painted on the face. Hippies argued that in the face of ugliness in the world, it was important to display as much natural beauty as possible.
Hippie Accessories
Simple was key to 1960s hippie fashion. Women's jewelry was mostly handmade or derived from Native American or similar designs influenced by nature. Beads were hugely popular, as was any necklace sporting a peace sign. Music being so much a part of the hippie scene, jewelry that made music was desirable. Some women wore necklaces that featured bells as pendants, and many wore jangly ankle bracelets. The ankles received a lot of attention in general, because many hippies, especially those living on the warm west coast, preferred to go barefoot. This was not a popular time for pedicures.
The Hippie Influence
While this was not the first time in fashion history that a youth movement affected the clothing industry, it did have the strongest impact. Designers found themselves very much taking their cues from the young people, and never again would the majority of American women be dictated to by the fashion industry. Trends continue to come and go, but women who found their own style and individuality in the 1960s have never let it go and passed much of it on to their daughters.
Advertisement
---
---
Fashion Revolution
Like any era, there were a variety of influences on the fashions of the 60s.
Hippie Fashion
A subgroup of the 1960 culture were the hippies. This group rebelled against the war, promoted peace, love, and made a huge fashion statement. They opted for fashions that were natural and comfortable. Seen in tie-dyes, free-flowing skirts and beads, the hippies' psychedelic style was as unique as their personalities. They often wore flowers in their hair and painted their face or bodies with peace symbols or other meaningful designs. The late 60s brought a whole new set of trends. Most were modeled after the hippie movement and were casual and relaxed. Women wanted to feel free and show off their individuality. Some typical hippie clothing items included:
Bell-bottomed jeans
Tie-dyed shirts
Long flowing dresses
Gypsy skirts
Fringed vests
Peasant blouses
Pantyhose Redesigned
Seamless pantyhose were introduced in the 1960s. Before pantyhose, women wore girdles and suspender belts to keep their nylon stockings from falling down. During the 60s, it was not proper to show bare legs, and it was not fashionable to see the tops of stockings when wearing mini skirts. Pantyhose were the perfect fashion alternative to stockings. Additionally, in the late 1960s tights became just as popular. Usually seen in solids, patterns or with glitter, tights were the perfect complement to a dress or mini skirt.
Footwear
Footwear changed drastically in the 1960s. Stilettos were traded in favor of kitten heels. Flat knee boots were popular and often paired with skirts and dresses. Women also wore Mary Janes, ballerina flats and sling-backs with most of their clothing. Toward the end of 60s, Dr. Scholl's clogs became quite popular due to the wide variety of comfortable styles.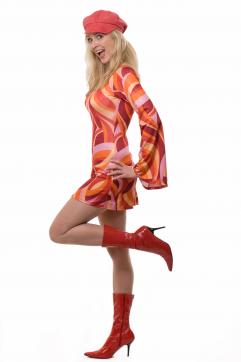 Cowl Back Necklines
Cowl back necklines drape down and are cut on the fabric's bias, which means that there will be a considerable amount of naturally "soft" looking drape along the lowest edge. Often reserved for the front of a dress, the cowl back neckline was often used for knit dresses as well as more formal garments for cocktail parties and get-together.
Boat or Bateau Necklines
Boat necklines run straight across the chest from shoulder to shoulder, but they often run higher than the usual neckline. Besides being modeled in the traditional nautical 60s stripes, they also were seen on mini dresses and casual blouses worn with mini skirts. It wasn't unusual for boat necklines to feature a special lace-up detail in thick cord or ribbon.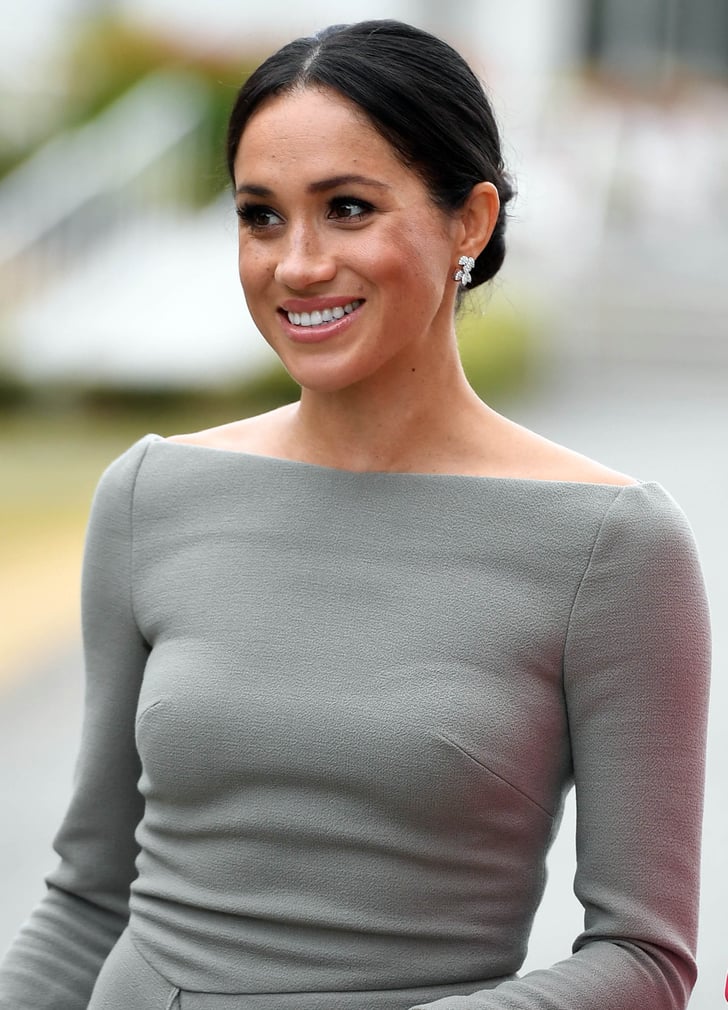 Funnel Necklines
Futurism in the 1960s was big, and that included higher, funnel necklines on dresses for a stiffer, more polished look. To balance the high neckline look, skirts crept upwards even further. For women who couldn't pull off the standard funnel shape, the Nehru collar (an Asian-style collar than also stands up from the bodice) was a fair replacement and in tune with hippie styles. Looser funnel necklines were also used as interpretation of the stricter, more "space-aged" designers who often showed more extreme runway styles.
Rounded or Jewel Necklines
Traditional rounded necklines were still popular in the 1960s, particularly among the "DIY" crowd who were known to stitch their own dresses from home patterns. These basic dresses were styled in psychedelic, geometric, or whimsical fabrics to counteract the cut and sew design lines that made basic shifts seem somewhat similar. Basic dresses like these were often accessorized with political pins, brooches, or charms in a contrasting color.
Square Necklines
Dresses of this decade often featured square necklines when the dress or blouse had long, voluminous sleeves and were often worn with a pendant necklace. Square neckline dresses were usually set off by sheer fabric bell sleeves (such as lace or chiffon), and can be found by collectors today in a variety of colors such as light blue, purple, white, and mustard yellow.
60s Style Icons
During the early 60s, women's fashion followed the trends worn by the iconic Jackie Kennedy. Never before had a First Lady been such a style trendsetter. Women everywhere wanted to copy her classy, yet fashionable look. Some common elements of her style included:
Pillbox hat
Suits in pastel colors
Short boxy-style jackets
Shift dresses
Oversized sunglasses
Pearls
The former First Lady wasn't the only style icon of the decade, as other fashion forward women did their part to shape the fashion tone that the 60's were known for.
Twiggy was the most popular fashion model of the era, she was known for her "pixie look", which included shift dresses, ballet flats, cigarette pants, and an extremely cropped haircut.
Audrey Hepburn, the Hollywood screen goddess was also quite the fashion icon, largely due to her role in one of the 60s most popular films, Breakfast at Tiffany's.
Brigitte Bardot embodied the ultimate sex kitten and pin-up girl; she popularized the Bardot neckline (a wide open neck, exposing your shoulders), the bikini, gingham print, and the choucroute, a beehive-inspired hairstyle.
Sweetheart Necklines
Sweetheart necklines, which are shaped like a heart at the bust line, popped up in the early 1960s, as ensembles were still considerably more formal than the latter part of the decade. Longer formal dresses in black and white were still worn for evening to-dos complete with pearls and gloves, and sweetheart trends were also adopted by early 1960s blouses in pique, wool crepe, and stiff cotton. Tops with a more simple design often featured back and front waist ties, darts for shaping, and short sleeves.
V-Back Necklines
If you needed to dress up in the 1960s, you might have chosen a dress with a v-style back and a double-breasted, collarless look in front. While these dresses were more common when the "Jackie O." look proliferated, this style never really disappeared. Wearing this look belted was a must, and both day and evening looks were found with this type of dip.
Plunging Necklines
V-shaped, u-shaped, or asymmetrical, plunging necklines became more and more popular as the decade rumbled along. As skirts got shorter, the necklines got deeper as well, and this neckline was never out of place with the eclectic accessories often worn by 1960s girls.
Top Designers
Fashion designers made their mark during the 60s and many are still designing women's fashion today. Some of the most coveted designers of the day included:
Pierre Cardin, who became famous for his brightly colored mini dresses.
Givenchy designed the iconic little black dress that is essential to every woman's wardrobe .
Yves Saint Laurent's shift dresses and pea coats became popular in the 60s.
Pucci is best known for colorful psychedelic prints, especially for headscarves and dresses.
Get the Look
Fashions from the 60s are still around; in fact, they can be found in many vintage stores and perhaps tucked away in an attic. To find authentic '60s clothing online, visit any of the following sites:
You'll also find nods to sixties fashions in modern designer collections. You'll see 60s inspired elements such as colorful prints, classy shift dresses, and boho-chic looks in contemporary names.
A Touch of 60s
While you may not want to look like you just stepped out of the 1960s, adding a touch of the era's fashion can add a new twist to your wardrobe. Whether in vintage or modern 60s-inspired looks, the fashion elements of this decade are always welcomed additions to your closet.
Brought To You By The Bitch That cares The Most, Crazy Gurl...