So, looks like West Taiwan just can't get anything right. Well, except for High Human Rights Violations Numbers, right? Seems that MANY representatives from several countries participating in the Beijing Olympics have taken issue with West Taiwan's behavior as a host country, pointing to inhumane conditions for athletes, especially quarantined athletes and unreasonable isolation rules and unexplained media suppression. Many Olympians raise concerns over horrible Conditions. Maybe this is a CHEATING STRATEGY to ensure that West Taiwan brings home the most medals? But, are we surprised? Why did we allow West Taiwan to host this year's Olympics anyway? Was the NBA or Disney is charge of choosing this year's host?
So, here's JUST A FEW examples of the poor treatment of the visiting public at this year's Olympics:
On Sunday, Finland's men's ice hockey team coach, Jukka Jalonen, accused West Taiwan of not respecting one of his player's human rights while he was in isolation following a positive Covid-19 test, claiming hockey player Marko Anttila was "not getting food" and was under immense stress, according to Reuters.
The Finnish team doctor said West Taiwan has forced Anttila, who tested positive 18 days ago, to remain in Covid-19 isolation despite no longer being considered infectious.
On Saturday, Germany's team chief Dirk Schimmelpfennig told reporters the living conditions for German skier Eric Frenzel, who was also isolating after testing positive for Covid-19, were "unacceptable," complaining of a lack of cleanliness, poor food quality and insufficient WiFi, though he said Sunday organizers responded quickly to the concerns.
Belgian Skeleton racer Kim Meylemans, who was also forced to isolate, posted a tear-filled video on her Instagram Wednesday in which she said she thought she'd been cleared from protocols as a "close contact" and would be released from isolation, but the ambulance driving her instead moved her from one isolation facility to another. "We are not even sure I will ever be allowed to return to the [Olympic] village," Meylemans said in her post. "I ask you all to give me some time to consider my next steps, because I'm not sure I can handle 14 more days and the Olympic competition while being in this isolation."
And, as we all saw on the news (if you did not then HERE ya go). The West Taiwanese official is seen forcefully moving a Dutch journalist on live TV as he was reporting outside of the National Stadium in Beijing. The reporter, Sjoerd den Daas, said on Twitter he and other media colleagues have been stopped several times by Chinese officials who sometimes do not identify themselves: "It's hard to see last night's incident as an isolated incident, as the [International Olympic Committee] claims."
Now, in Atilla's case, the international Ice Hockey Federation will meet with the International Olympic Committee on Sunday to discuss Anttila's case, along with other athlete controversies, Jalonen told Reuters and other media outlets in a Zoom press conference. An Olympics spokesperson told Reuters, "We are in a process of addressing these problems." The IOC did not immediately respond to Forbes' request for comment. Finland will begin its group play in Hockey against Slovakia on Thursday. Likely the IOC is still referring to their West Taiwanese bosses for 'advice' on how to answer and proceed. I'm not sure.
Boycott (?)
Many countries, including the U.S., U.K. and Canada, declared a 'diplomatic boycott' of the Beijing Olympics, meaning they sent no ministers or officials to the games, in protest of West Taiwan's human rights violations against the Uyghur Region, Tibet and Taiwan. Many countries including the U.S. have accused the West Taiwanese government of committing human rights atrocities like forced labor and forced sterilization against the Uyghurs, an ethnic minority group from the Xinjiang region of China. They won't go but they definitely sent their Olympians. Sad, isn't it?
Funny thing too, it seems that a Uyghur Olympian was released from his concentration camp, fattened up a bit & featured as the final torchbearer during the Olympics' opening ceremony on Friday—a move critics viewed as a message sent from the West Taiwanese government. "By selecting a Uighur athlete to light the torch, China (they mean W. Taiwan) is trying to address criticism by the West about their repeated genocide or persecution of the Uyghurs, and about sinicization of ethnic minorities," Ma Haiyun, an associate professor at Frostburg State University and an expert on Xinjiang, told Reuters.
See this brief video about the Uyghar genocide taking place now
Wait, there's more
Inedible food and no training equipment are also making life miserable for Olympians, especially the one's in quarantine with COVID-19, one athlete claimed.
Russian biathlete Valeria Vasnetsova posted a photo of one of the unappetizing meals to Instagram, showing the plain pasta, charred meat, and no vegetables.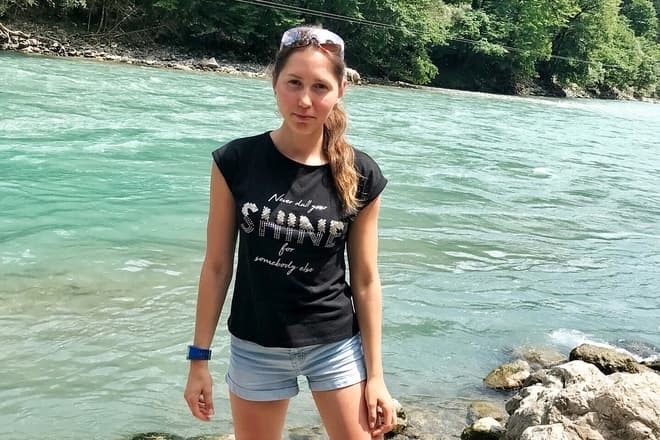 "My stomach hurts, I'm very pale and I have huge black circles around my eyes. I want all this to end. I cry every day. I'm very tired," she wrote, claiming the same meal was served for "breakfast, lunch and dinner for five days already."
"My bones are already sticking out," she wrote, adding she ate all the fat on the day she posted instead of the meat "because I was very hungry."
While getting the meal dropped outside her door, Vasnetsova inspected boxes left for her neighbors — which lead her to the conclusion that athletes were getting worse food than others.
Her team doctor, for example, got greens. "I honestly don't understand, why is there this attitude to us, the athletes?!" she said. Her account has since gone private. Perhaps she is being THREATENED by her jailers? We don't know as of now.
Some athletes who test positive are forced into the hotels provided by West Taiwanese authorities; others are allowed to quarantine in the Olympic Village.
The German delegation head, Dirk Schimmelpfennig, described quarantine conditions as "unreasonable" after Nordic combined competitor Eric Frenzel tested positive. The FAZ newspaper reported that Germany is seeking larger, cleaner rooms and more regular food drops so athletes that leave quarantine can compete.
Other governments are complaining too. Team officials from Germany, Belgium, and Russia said their athletes are facing nightmarish situations, like poor to no internet connection, bad food, and no training equipment, in the so-called quarantine hotels set up by West Taiwanese officials.
No access to fitness equipment or struggling to communicate with their teams are especially problematic for athletes trying to stay in tip-top shape before they compete.
Athletes are stuck in these isolation facilities until they test negative with two consecutive PCR tests. Only then can they be released and reenter the Olympic Village to train with their teams and to compete.
Belgian skeleton racer Kim Meylemans also tested positive for COVID-19 after arriving in Beijing. In a series of Instagram posts, Meylemans tearfully shared details of her confusing situation that unfolded after being taken away for quarantine. Even AFTER testing negative, she thought she was being returned to the Olympic Village in Yanqing. Instead, she boarded an ambulance that brought her to another isolation facility entirely.
It left her devastated, confused, and scared.
After these very public complaints, Olympic organizers "scrambled" to fix the problems.
Only directly addressing the Frenzel situation, Christophe Dubi, the Olympic Games executive director, said Sunday, "That should have never happened." Dubi said he and other organizers are working to tackle any problems isolating athletes and their teams face. "Every time there is an issue we have a very good network to relay info and address the problem as swiftly as we can," he said. "It's very unfortunate it affected an athlete."
Russia's delegation reported Vasnetsova's meals have vastly improved. But only after West Taiwan was put to task by the bad press. On Sunday, Schimmelpfennig said organizers had responded quickly to their concerns for Frenzel.
Meylemans has since returned to the Olympic Village in Yanqing — still under quarantine but now closer to her team.
"I am now in a wing that's just isolation, but at least I'm back in the village," Meylemans told the Associated Press. "I feel safe and I'll be able to train a little better here."
So, it seems the West Taiwanese government may be trying to fix the situation. We can only hope they can do the same for the situation of many of it's citizens. The Uyghars, Tibetans and others still face brutal conditions. With 'Orwellian' conditions being the norm in West Taiwan, who knows when human rights will see the light of day in the Middle Kingdom. This bitch hopes it's real soon…..
Brought To You By The Bitch That cares The Most, Crazy Gurl...