People Who Live Inside Planes – GIRL, just imagine living in a house that not only provides ample space but also comes with its unique charm, a fascinating backstory, and a minimal impact on the environment. This dream can be a reality for those of us who choose to call an airplane their home. And, I don't mean in a "Into The Night" kind of way (great show on NetFlix, check it out!). I mean in a "this plane ain't going anywhere" sort of way. While the idea may seem far-fetched to many, there have been several individuals who have successfully transformed airplanes into their homes, and the results have been nothing short of amazing.
---
---
People Who Live Inside Planes
Jo Ann Ussery's Peculiar Idea
In 1995, Jo Ann Ussery, a beautician from Benoit, Mississippi, had an unusual idea of living in an airplane. After losing her house to a fire, Ussery decided to follow the offbeat suggestion of her brother-in-law, an air traffic controller, and buy an old Boeing 727 that was destined for the scrapyard. She had the plane shipped to a plot of land she already owned and spent six months renovating it. By the end, she had a fully functional home, with over 1,500 square feet of living space, three bedrooms, two bathrooms and even a hot tub, all for less than $30,000 (or about $60,000 in today's money).
Ussery lived in the plane from 1995 to 1999, until it was irreparably damaged after falling off the truck during its move to a different location. Although she wasn't the first person to ever live in an airplane, her flawless execution of the project had an inspirational effect on others.
People Who Live Inside Planes
Bruce Campbell's Living in an Airplane Experience
In the late 1990s, Bruce Campbell, an electrical engineer with a private pilot license, was awestruck by Ussery's story. He too wanted to live in an airplane, and after years of hard work and determination, he was able to make his dream come true. Campbell has been living in his own Boeing 727, which he had salvaged from the woods of Hillsboro, Oregon, for over 20 years now.
Campbell's project cost him $220,000 in total (about $380,000 in today's money), of which roughly half was for the purchase of the plane. He says that the plane belonged to Olympic Airways in Greece and was even used to transport the remains of the airline's magnate owner, Aristotle Onassis, in 1975. Despite not knowing the plane's history at the time, Campbell has no regrets about his decision to live in an airplane. He says, "I would never live in a conventional home. No chance. If Scotty beamed me to Inner Mongolia, erased my fingerprints, and forced me to live in a conventional structure, I'd do what I have to do to survive, but otherwise, it's a jetliner for me anytime."
The interiors of Campbell's airplane are no-frills, with a primitive shower made out of a plastic cylinder and a futon sofa for a bed. During the harshest part of winter, Campbell traditionally retreats to Miyazaki, a city in southern Japan with subtropical weather, where he owns a small apartment. However, due to the pandemic, he has been living in the 727 year-round for the past three years. In 2018, Campbell almost bought a second aircraft, a 747-400, with the intention of setting up an airplane home in Japan, but the deal fell through at the last minute.
Campbell frequently gets visitors and even offers lodging in the aircraft free of charge, while in the summer he hosts larger public events with funfair attractions: "Artists perform on the right wing, guests dance in front or behind the wing in the forest, which for the big concerts becomes filled with all sorts of recreational venues. They're not Disneyland class — just portable booths with different curiosities and little recreations, but they're fun."
People Who Live Inside Planes
Living in 2 airplanes
Joe Axline, the owner of two airplanes, an MD-80 and a DC-9, has a unique living arrangement in Brookshire, Texas. The two planes sit side by side on a plot of land he owns, where he has lived in the MD-80 for over a decade. Axline is now planning to renovate the DC-9 to include recreational areas like a movie theater and a music room, which he calls "Project Freedom." The total cost of the project is less than a quarter of a million dollars, with most expenses covered by the land and his own water well and sewer system. The only thing left to pay for is electricity.
For years, Axline lived in the plane with his children, but now he enjoys the spacious 10 by 18 foot master bedroom, which has two TVs, a living room, dining room that seats four, a shower, and a toilet. Despite the lack of windows that open, Axline opens the plane's doors to let in fresh air. The planes can be seen from nearby roads and often attract curious drivers, whom Axline refers to as "turistas." He welcomes them with open arms and gives them tours, regardless of whether or not the bed is made.
Axline's ultimate dream was to live in a Boeing 747, the "Queen of the Skies". But, with the cost of the plane itself at $300,000 and the shipping costs of $500,000, it was unrealistic. The plane would have needed to be torn apart and reassembled. More work than Axline had anticipated, for certain.
Airplane DIY
For those who love the idea of living in an airplane, there are a number of notable examples to draw inspiration from. One of the first is the Boeing 307 Stratoliner, which was once owned by billionaire and film director Howard Hughes. He transformed the interior into a luxurious "Flying Penthouse." After being damaged in a hurricane, the plane was converted into a yacht and later purchased by Florida resident Dave Drimmer, who spent 20 years living in the converted aircraft before donating it to the Florida Air Museum in 2018.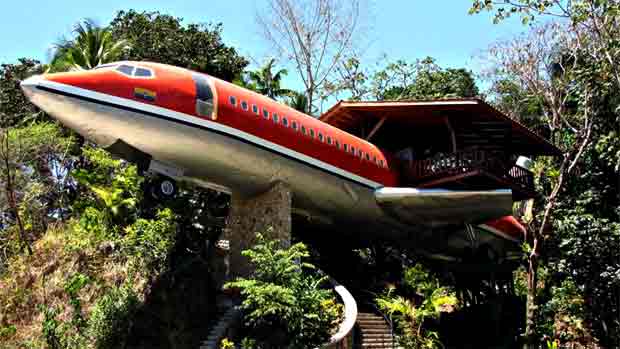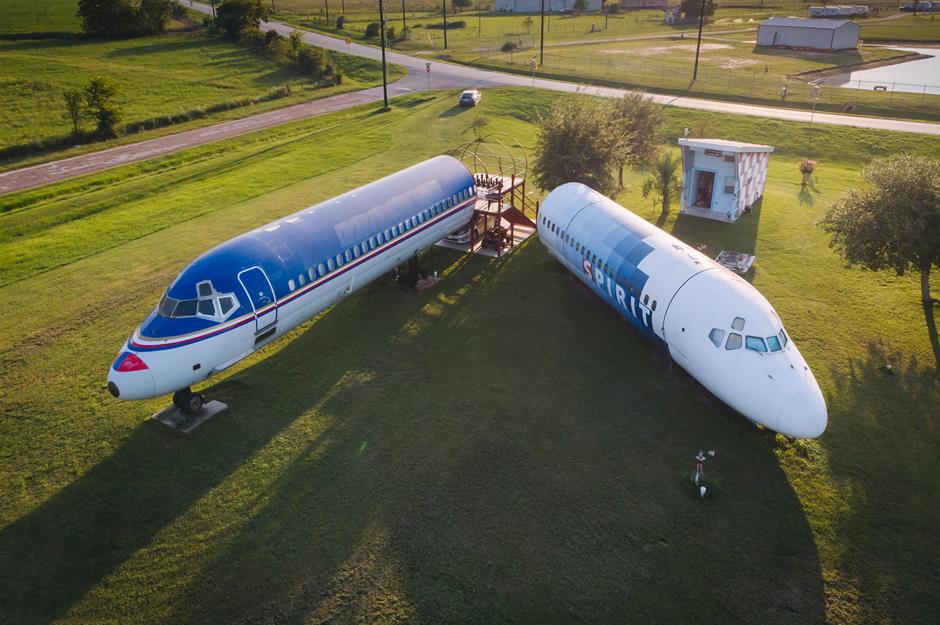 Another inspiring example is American country singer Red Lane, who lived for decades in a converted DC-8 that he saved from a scrapyard. With a background as a plane mechanic, Lane lived in his airplane home with no regrets. He once revealed in a TV interview that he never woke up wishing he was somewhere else.
For those who want to experience living in an airplane home, there are hotels that offer the experience. The Costa Verde hotel in Costa Rica boasts a fully refurbished Boeing 727 with two bedrooms and an ocean view terrace. In Sweden, the Jumbo Stay hotel is built entirely inside a Boeing 747 at Stockholm's Arlanda Airport. For those looking to host events, there's a Boeing 747 that can accommodate up to 220 people at Cotswold Airport in England.
However, those who want to fully embrace the lifestyle should be prepared for the challenges. Joe Axline warns that finding the right airframe and location, as well as addressing the numerous problems that arise, can be overwhelming. Despite this, Bruce Campbell encourages others to follow their dreams. He advises to "work out all the logistics" and to not let anyone shake your confidence. Although several of his guests have expressed interest in the lifestyle, none have established momentum. Nevertheless, Campbell's primary advice is to "just do it."
People Who Live Inside Planes
Living in an Airplane Community
Living in an airplane is not just a trend for a few individuals, but a growing community of individuals who share a common interest in finding alternative housing solutions. This community has grown to include people from all walks of life, from pilots to engineers, and even families. The community provides support and advice to those who are interested in converting airplanes into homes. They share their experiences, tips, and suggestions on forums and social media platforms, and often organize events and gatherings.
So, living in an airplane is a unique and cost-effective way of living. It offers a sense of freedom and allows individuals to break away from the traditional home structure. The trend has inspired many individuals to take on the challenge of converting an old aircraft into a functional and livable home. While it may not be for everyone, it's an interesting concept that has attracted a growing community of like-minded individuals. Whether it's for a temporary escape from the real world or a long-term solution, living in an airplane can provide a unique experience that is both practical and fulfilling.
But, they don't take off, ya know? Crazy Gurl likes to travel…
Brought To You By The Bitch That cares The Most, Crazy Gurl...