Description

UV Light Wand – $45.99
100% Free Shipping
100% Secure Checkout
100% International Warranty
100% Moneyback Guarantee
Ultraviolet (UV-C) light helps to eliminate bacteria, viruses, fungus, molds, etc on the surfaces of most household and personal items. Remove odors, bacteria, and dust motes which cause splenitis, pneumonia, asthma, and allergies.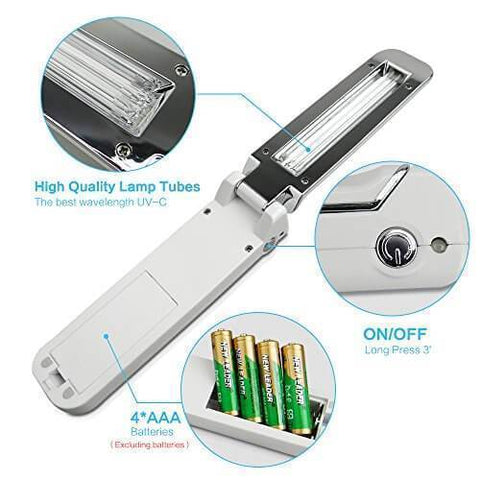 This UV sterilizer can kill germs and bacteria that are on hard surfaces in the office, at home, grocery stores, all public places.
FEATURES:
Suitable for households, travel, business, and healthcare. Its portability'makes it easy to bring anywhere and use anytime.
This UV sterilizer is powered by battery or USB charger (4 * AAA batteries were not included). Press the on / off button 3 seconds, and when the indicator light turns blue, you can use it to scan wherever you want to be sanitized.
Added gravitational protective feature, automatically turning the UV-C?light off when device is facing anywhere but downward.
?
SPECIFICATIONS:
Size: 12.5 x 3.5 x 2.5 cm
Weight: 125g
Voltage: 5V
Current: 400mA
UV-C tube: 2W
UV wavelength: UV-C (253.7nm).
Irradiation intensity:> 2500uw / cm2.
Battery: 4x AAA / 6V (excluding battery)
Charging method: USB power.?
Package includes: 1 * UV sanitizing light
??Note??Ultraviolet radiation can cause skin and eye burns. Avoid direct exposure of a long time on the human body. It requires people and animals waiting outside during disinfection after disinfection is completed it also needs to wait more than 40 minutes for ozone decomposition completing.
HOW TO USE:
Make the UV lamp towards the sterilization items, keep the vertical distance at 3cm-5cm, move slowly back and forth for 30 seconds. The longer the time, the better the sterilization effect.
THIS ITEM IS NOT SOLD IN STORES! GET IT WHILE SUPPLIES LAST!?