Skateboarders are the 'shock troops of gentrification?, making no-go areas secure ? and then seeing their newly valuable sites destroyed when the developers move in. Can one much-loved London space buck the trend?
"It was like a part of my soul was destroyed,? says Ian ?Davross? Scudds. He is talking about the moment in 2004 when two-thirds of the skateboarding site at the Southbank Centre in London was fenced off and destroyed without warning. Four decades of skateboarding history went with it. Now 54, Davross has been skating at the Southbank since he was a teenager, and was the UK's first professional street skater. ?I do get upset when I go. I have memories of what was there, and I do get quite tearful.? But he rallies at the thought of what it once was, and could be. ?If the small banks came into being again I?d be down there every weekend. I was in love with the small banks.?
He may yet get to see the full Southbank skateboarding site return to its former glory. In 2014, the final third of the site was threatened with closure when the Southbank Centre management changed hands; the plan was to transform it into retail units as part of a ?120m redevelopment scheme. But a David and Goliath campaign began, run by the site's most militant defender, Henry Edwards-Wood, and Palace pro Chewy Cannon, and eventually backed by the then London mayor, Boris Johnson. The Southbank Centre capitulated and a new era of cooperation dawned.
The Long Live Southbank campaign is now run by 22-year-old local Louis Woodhead and community organiser Paul Richards, and last year they proposed the reconstruction of the site in its entirety. The Southbank Centre, in a massive U-turn, agreed, and they put in a joint planning application to Lambeth council. The application was accepted, and plans were approved. Now, the only thing standing between the skaters and reconstruction is a bill for ?790,000 to pay for the restoration of the original site, as well as an education centre adjacent to it.
I ask Edwards-Wood if the area surrounding the skate spot, now populated by chain restaurants and a continuous stream of sightseers, had been different in the past. Of course, he says. There were ?no shops there. It wasn't like a high street like it is now; it was beautiful, a big open space to think and be ? The point is, skaters made that area safe; in the old days it was cardboard city. That is what skating does: it fills the cracks in society left by capitalist development ? that is where skating exists. It's like a fungus, it's like moss, it just grows in the corners where no one else wants to be.?
The idea that skateboarders are the 'shock troops of gentrification? has been well documented. Ocean Howell, a professor of architectural history at the University of Oregon and an ex-pro skater, described the process in 2005. In a paper published in the Journal of Architectural Education, Howell outlined the role skateboarders had played in the gentrification of Love Park in Philadelphia. Love was a famous skate spot that was redeveloped, at a cost of $800,000 (?613,000), in a way that destroyed skating. Large swaths of smooth ground were covered with grass, planters were installed in front of the concrete ledges and a ban on skating in the park put in place in 2000 started to be enforced.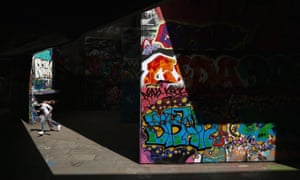 Describing the demise of Love, skateboarder and journalist Christian Kerr has written that ?with the rise of Reaganomics in the 80s, came a rise in Philadelphia's homeless population, who came to congregate at Love. Property values dropped and, for a while, the city bemoaned the park as derelict and dangerous. But once skateboarders started arriving on the scene in the early 90s, things started to change.? According to Howell: ?Skateboarders made it seem safe again. As [Philadelphia skate legend] Ricky Oyola put it, ?If these little kids aren't scared, why should I be scared; I'm a 30-year-old man coming home from work.? Once it's safe for young skaters, it's safe for young male office workers. Once it's safe for male office workers, it becomes safer for female office workers, then for older folks, and so on.?
Advertisement
Need a website but don't know how to build one OR just don't have the time? Try Buzaz ready made websites and start your online dreams for a little as $150!
Set in a global context, the way in which the Southbank site has been eroded is depressingly familiar. Oli Mould, a lecturer in human geography at Royal Holloway, University of London, maps out the trend. ?Many of the most famous skate spots worldwide ? Embarcadero and Hubba Hideout in San Francisco, the Arco rails in LA, the Brooklyn Banks in New York ? have been lost to various kinds of redevelopment,? he says.
The destruction of historic skate spots once an area becomes economically viable is nothing new. What is sinister, according to Mould, is that this dynamic may now be built into the urban planning process itself. ?I?ve heard of some cases where new planning in more deprived areas has deliberately, but covertly, made it skater-friendly. This means that more ?nefarious? activities (which tend not to like being bothered by skaters) would happen elsewhere.? Once a happy accident for developers, a kind of skate-sponsored neighbourhood watch is now being written into the urban planning process from the beginning.
Edwards-Wood's claim that skateboarding ?grows in the corners? would have delighted the designers of the festival wing of the Southbank Centre, who began planning it in 1961. Three of the architects were part of the avant-garde architectural collective Archigram. According to Iain Borden, a professor of architecture at University College London, the group spent a long time designing buildings far too radical to have a hope of being built. Their raison d?etre was 'to create a new reality that was solely expressed through hypothetical projects?, and the festival wing of the Southbank Centre, although just mainstream enough to actually be realised, was definitely one of those.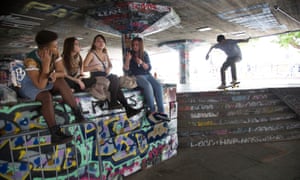 Advertisement
Borden tells me that what was so radical about the design was that it would include multiple spaces that had no predetermined purpose. These large, mysterious areas were to be filled by whoever, or whatever, decided to fill them once construction was finished. In 1968, the building was complete. Less than a decade after that, skateboarding arrived in Britain. Legend has it that Southbank was discovered by a man called Jim Slater. He is said to have brought the first skateboard across the Atlantic and, with his LSD (London Skates Dominate) crew, stumbled across the odd combination of flat ground, stairs and banks.
Once Slater and his crew had established Archigram's empty spaces as the breeding ground of their weird new hobby, generation after generation of young skateboarders made the pilgrimage to the undercroft. Davross remembers 'some of the stupidest things I came up with were at Southbank, such as crail blunts, or crunts, as they call them now? (this is the art of resting on your two back wheels while grabbing the front end of the board with your trailing hand). In a time before the internet, a space that gave you entry into uncharted cultural waters was invaluable. ?For the only skateboarder in Catford,? says Edwards-Wood, ?beat up every day ? OK, not every day, but getting the piss taken out of you every day for being a skateboarder ? Southbank was a mecca, instant recognition, instant friends.?
Advertise on CrazyGurl.com NOW!
Want to advertise on CrazyGurl? We want that shit too….. For as little as $35 a month, we will add YOUR advertisement to a post related to your product or business! This is THE BEST price available for customized online advertising! reach out to us at info@mickeyc65.sg-host.com
Those running the Long Live Southbank campaign don't want to get people's hopes up: ?790,000 is a lot of money to raise, especially for a group of broke skateboarders, and some of the old site is simply too difficult to salvage. The renowned ?bank to wall?, a 45-degree bank leading to a vertical wall, may never return. The wall has gone, replaced by a thoroughfare that is impossible to move.
Advertisement
$469.99 for [DE Stock] Xiaomi FIMI X8 SE GPS WiFi FPV Foldable RC Drone
But things are moving forward. Woodhead, Richards and the rest of the campaigners are at Southbank every day, staffing the campaign table, spreading the word and taking donations. Richards tells me he would rather have 790,000 donations of ?1 than a massive donation from an institution. The Southbank Centre has agreed to consider the restoration of the original site in its entirety, should further redevelopment allow for the relocation of the children's centre, which, under current plans, will take up just under a third of the original skating area.
These are all big ifs, but an if is a possibility. For Edwards-Wood, Davross and the myriad other skate rats who call Southbank home, that means a huge amount. ?There are places like Southbank everywhere, for everyone,? Edwards-Wood tells me. ?Southbank just happens to be the prime spot, terra firma, ground zero.?