In the case of the killing of Tim McLean, a young man dismembered and cannibalized while riding home on a Greyhound bus bound for Winnipeg, the details are beyond imagination. The incident would leave an indelible mark on witnesses and put the normally tame Canadian justice system to the test. This bus ride gone horribly wrong would not only cost the 22-year-old victim his life, but it exposed the frightening reality of mental illness run rampant.
When Vincent Li, a diagnosed schizophrenic, randomly boarded the bus that day, no one could have ever anticipated the depth of his depravity or the severity of the voices in his head. Later dubbed the Canadian Cannibal, Li committed one of the most shocking and unbelievable offenses of the decade that night, reminding anyone who heard the tale that humans are, indeed, the real monsters. What makes the case truly stunning, however, are not the grisly details but the fact that Vince Li is now a free man. 
A Strange Figure Boarded The Bus
It was around 6 pm on July 30, 2008 when Vince Li, a tall, well-built man, boarded a Greyhound bus traveling from British Columbia to Winnipeg. Standing over six feet tall, he cut an imposing (if quiet) figure. Some passengers say he seemed agitated and possibly confused as he climbed aboard, but he did not seem to be a threat. He chose a seat near the front of the bus, spoke to no one, and eventually disembarked briefly to smoke a cigarette at a rest stop.
When Li returned to the bus, he seemed dissatisfied with his original seat, choosing instead to sit next to Tim McLean towards the rear of the bus. 
It Was Clear That Li Was Unhinged
Vince Li was not a well man. Before he boarded the bus that fateful evening, he was already showing signs of someone on the brink of a mental episode. He was observed sitting at the bus stop, long before his ride was scheduled to arrive. Emotionless and quiet, he posted a sign reading "Laptop For Sale $600 O.B.O." in front of his luggage and sat. And sat. In fact, he sat there through the entire night, bolt upright with his eyes open.
The next morning, just hours before he would board the bus with Tim McLean, he sold his laptop to a 15-year-old boy for $60. Once Li's gruesome actions became public, however, the computer was quickly confiscated. 
Vince Li was 44 years old at the time of his arrest, having immigrated to Winnipeg, Canada from China in 2001. Although he studied computer science in China, he was unable to find steady work in Canada, moving from jobs at McDonalds to Meatland Food to Walmart, where he was eventually fired over a disagreement with a coworker. All the while, he harbored deeply disturbing thoughts about aliens and how he had been chosen by God to vanquish them.
It was only later he understood this voice to be a symptom of schizophrenia, and not the work of a divine power. Li traveled around trying to find the aliens he was supposed to destroy, and he felt he finally came to the end of his search when he saw McLean that day. McLean was the alien he was destined to kill. According the voices in his head, he was doing everyone a service by killing the sleeping man, even though he knows now it was completely wrong.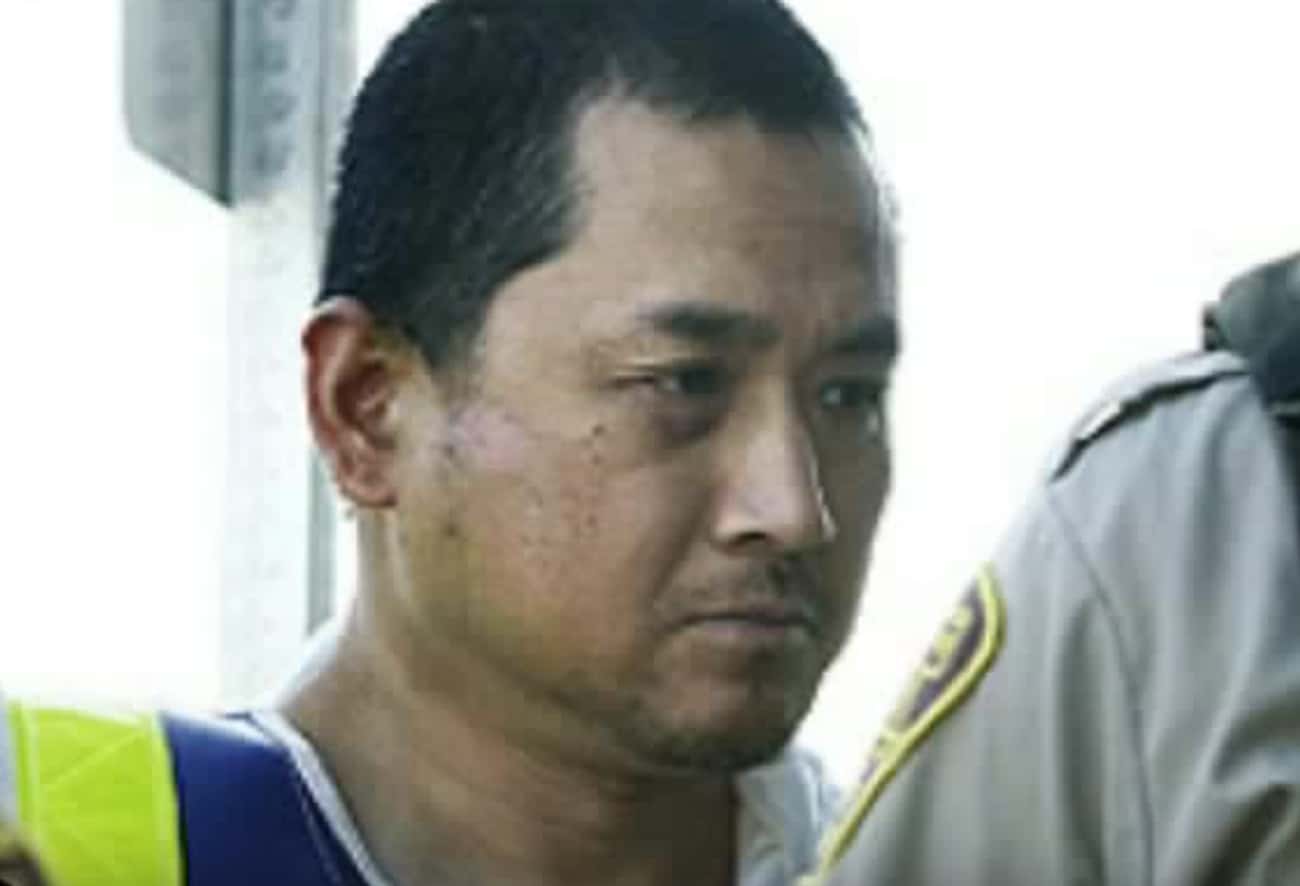 Who Was Tim McLean?
Born on October 3, 1985, McLean was an active athlete and a beloved son, father, brother, and uncle. He had a large extended family. He was known as an adventurous person who loved traveling and meeting new people. He took up employment as a carnival employee in 2008 and was returning home on Greyhound bus 1170 through Saskatchewan. He had boarded the bus earlier in the day, around noon, and sat in the rear, one row ahead of the restroom.  
When Li moved to the seat next to him, he thought nothing of it. He barely acknowledged him and proceeded to fall asleep, his head against the window and headphones in. He was awoken just five minutes later as Li began to impale him in the neck.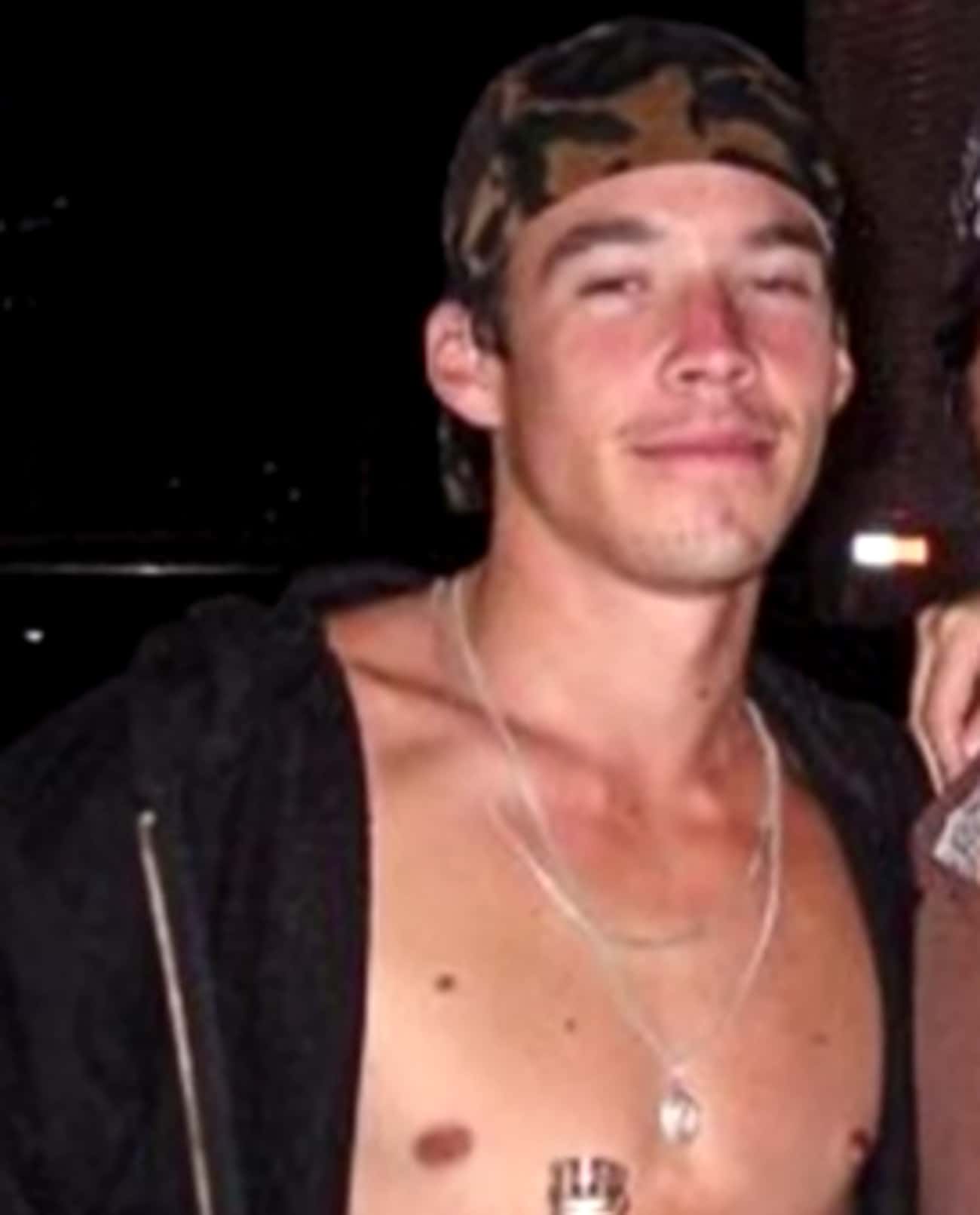 Li Killed McLean Without Expressing Emotion
There were dozens of witnesses that day when Li changed his seat and positioned himself next the sleeping McLean. Just moments after the bus began moving, Li calmly pulled out a massive hunting knife and began using it against McLean. The young man instantly snapped to attention and began screaming in pain and horror — a scream that haunts many of the other passengers to this day. Although he fought desperately for a few moments, he was no match for the killer.
As Li impaled McLean over and over, he was calm and methodical, never changing his expression or showing emotion. Onlookers were shocked by his lack of rage and the way he committed the killing almost robotically, stabbing him close to 60 times according to one witness. As the screams of horror filled the bus and the driver pulled urgently to the side of the road, Li began to cut off McLean's head and dismember his body.
As the passengers ran screaming from the bus, the driver and two other brave men carefully boarded the bus again to see if they could help the victim. Li chased them away with the knife, forcing them to exit the bus and lock the door from the outside.
Li grabbed McLean's severed head and brandished it for the stunned passengers, dropping it near the door and then retreating to eat some flesh from the mutilated body. 
People Tried To Help
As the passengers ran screaming from the bus, the driver and two other brave men carefully boarded the bus again to see if they could help the victim. Li chased them away with the knife, forcing them to exit the bus and lock the door from the outside.
Li grabbed McLean's severed head and brandished it for the stunned passengers, dropping it near the door and then retreating to eat some flesh from the mutilated body. 
He Ate Parts Of The Body Before Climbing Out The Window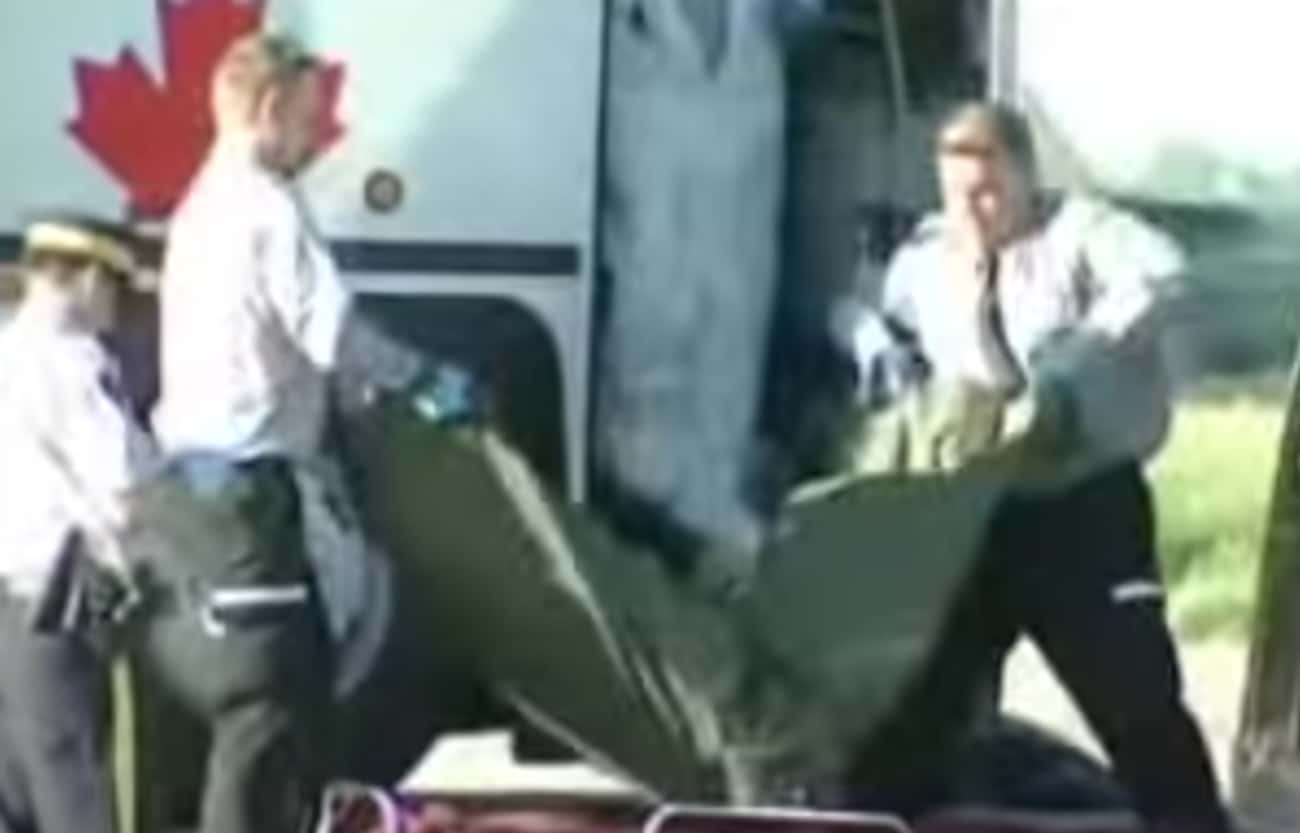 The Royal Canadian Mounted Police were not prepared when they received word of what happened on the Greyhound that day. They arrived to find Li still on the bus, and a group of men guarding the the door with a crowbar and hammers. The driver had cleverly engaged the emergency immobilizer system so the killer could not attempt to drive the bus away.
By 9 pm, the police were in a standoff with Li and as he paced the length of the bus, trapped inside, until special negotiators and heavily armed tactical units arrived on the scene. When he tried to escape through a back window of the bus, he was Tasered twice and handcuffed. 
The Trial Had A Bizarre Outcome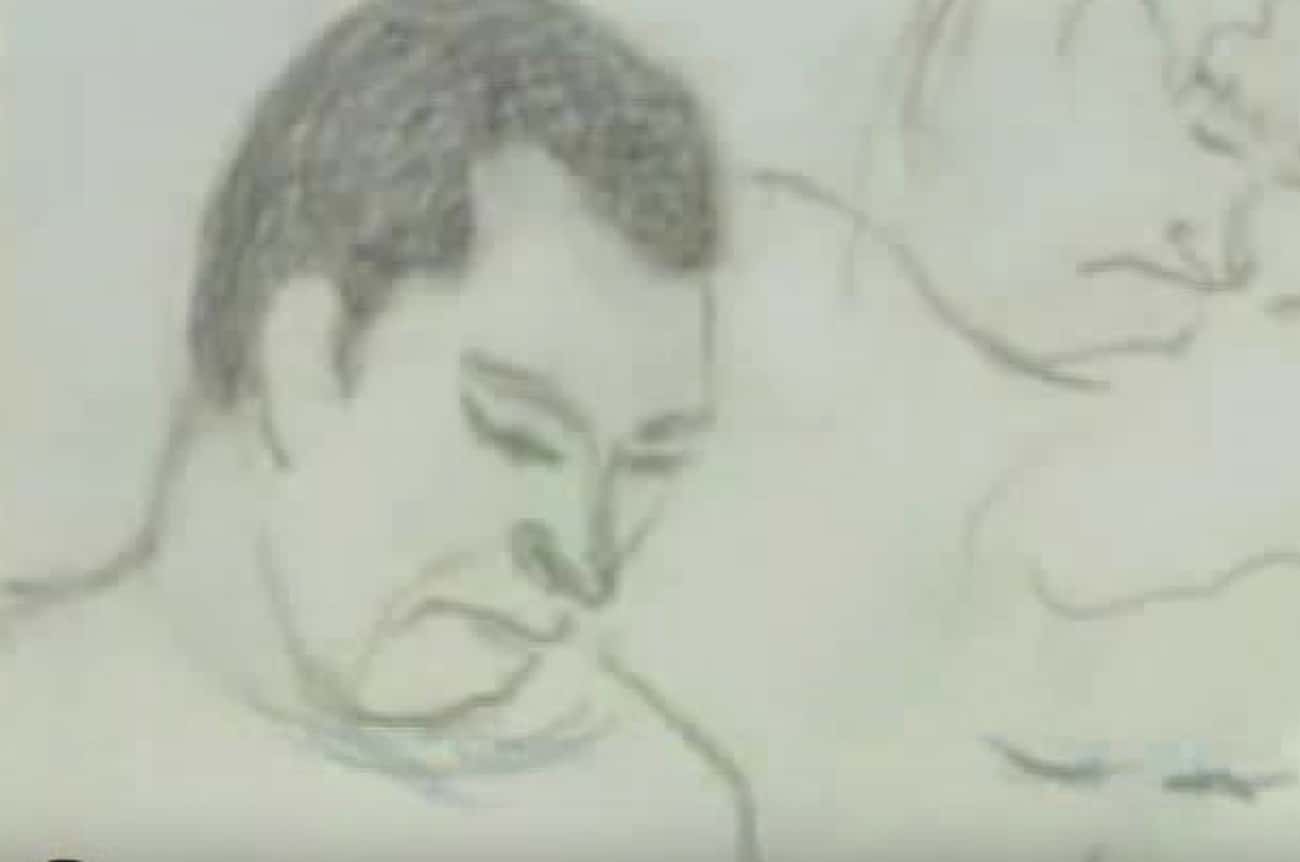 Although Li was obviously responsible for his actions that evening, Canadian law has surprisingly lax requirements for those with mental illness. Li refused to hire a lawyer. However, those who represented him stated he could not be accountable for what he did due to his untreated schizophrenia — and the judge agreed. As a result, Li was committed to a high-security psychiatric ward for one year so he could be evaluated and treated according to his condition. 
McLean's parents, on the other hand, were looking for answers, none of which they found that day. Their lives were shattered by their son's untimely death, and it seemed no one could be held responsible for their pain. 
Witnesses Never Recovered
For those who witnessed the horrific killing of Tim McLean, there can be no peace. Some tried to drink the memories away, while others have sought therapy and even moved to new locations. For many, their lives have been destroyed by the PTSD they experienced after the killing, and some are paralyzed by large crowds or loud sounds.
The thing most of the passengers seem to recall with perfect clarity is the sound of McLean's scream as he woke to the terror of what was happening. They just can't seem to rid themselves of the sound. For others, they can only feel numbness.
The Scene Was Mentally Scarring For The Officers
When police boarded the bus, they were faced with an intensely gruesome scene. Not only had McLean's remains been hacked apart, but there seemed to be some missing body parts as well. When they searched Li, they found the victim's nose and tongue in his pocket. Findings later revealed McLean's eyes and part of his heart were never recovered, supposedly eaten by his killer that night. 
The horror of the situation took its toll on everyone involved. Many of the passengers from that night suffered from reoccurring nightmares and feelings of severe anxiety. The Mountie who first boarded the bus the night of McLean's death never recovered from his shock. Although he had been exposed to many gruesome and frightening scenes over the years, he could not seem to shake those bloody images from his mind. Burdened and overwhelmed by his PTSD, he finally took his life six years after the murder. The trauma had simply become too much, and he could not longer do his job or handle the daily torment of his own private hell. 
Li Went Free While The McLeans Struggled
The Manitoba Criminal Code Review Board ordered the discharge on Friday, saying Li, now known as Will Lee Baker, does not pose a significant safety threat.
Baker was found to have been suffering from untreated schizophrenia when he stabbed, beheaded and partially cannibalized Tim McLean, 22.
McLean's mother, Carol de Delley, a vocal critic of Canada's not criminally responsible laws and who believes Baker should remain in custody for life, posted to Facebook on Friday that she has nothing to say about his discharge.
"I have no comment today. I have no words," de Delley wrote.
Baker was found not criminally responsible in 2009 and spent seven years in treatment at the Selkirk Mental Health Centre before being allowed to move to Winnipeg, where he was treated at Health Sciences Centre.
Last year, he was permitted to move into independent living, but he had to abide by certain rules, which included taking medications and attending counselling appointments.
According to a 1999 ruling by the Supreme Court of Canada, a review board must order an absolute discharge if a person doesn't pose a significant threat to public safety.
The review board said it heard testimony from mental health professionals before concluding that the "weight of evidence" showed Baker is not a risk to the public.
'Some will be fearful'
Chris Summerville, CEO of the Schizophrenia Society of Canada, worked with Baker for around eight years and said he's confident Baker will manage his illness effectively.
"We've seen — and I've seen — face-to-face, person-to-person, heart-to-heart, his ability to recover, that is, to learn to live beyond the limitations of his mental illness, with a sense of purpose and hope," Summerville said.
Baker has expressed a desire to "stay engaged" with his doctors and mental health organizations, Summerville said.
Summerville said he believes recovery, rehabilitation and redemption are possible for people with schizophrenia.
"I know that it's very difficult and I appreciate the fact that there are millions of Canadians who are listening to this report, even, that will disagree, and some will be fearful," he said.
"I try to do my best, the schizophrenia societies across Canada try to do their best, to educate the public that people can effectively and successfully live with schizophrenia and manage it and be responsible citizens, have a moral conscience, and stay with their treatment plan. I see it every day."
'Concerned about a relapse'
Matt Logan, a former RCMP officer and forensic psychologist, said he thinks Baker's absolute discharge isn't in the public interest. He said he would have preferred to see a conditional discharge that included requirements for Baker's continued surveillance by mental health professionals.
Logan, who has never worked with Baker, said the man may have progressed well in an environment of support and structure, but he worries an absolute discharge could mean Baker won't access those resources anymore.
"I am concerned about a relapse. I'm concerned about a lack of insight in the taking of medications," he said.
"But the public interest looks at this and says, you know, 'Nine years? Nine years, really, for this kind of crime?' And I think we have to weigh that as well."
Logan said society needs to improve the way it bridges criminal justice and mental health. His own professional experience has included both.
"The de-institutionalizing of people with mental illnesses and putting them into the public and leaving them to the criminal justice to monitor — I think we have to have a lot of discussion about this yet."
Absolute discharge 'inevitable,' prof says
Law professor Isabel Grant hasn't worked on the case herself, but based on what she's seen in the media, she said Baker's absolute discharge was the "inevitable outcome" of his case, based on the evidence provided by mental health staff that he was progressing well.
Grant teaches at the University of British Columbia, and specializes in criminal and mental health law.
She took issue with Logan's assertion that the verdict isn't in the public interest.
"I'm a lawyer and I'm going to go back to the law on this, and that is that the public interest isn't what the Criminal Code says," she said.
"The review board is required to apply the standard in the Criminal Code, which says that if the tribunal finds that he is not a significant threat to the public, they have to give him absolute discharge."
Grant said the criminal justice system doesn't apply its usual "punishment-based model" to offenders who are not criminally responsible. Instead, the model is based on treatment with the goal of allowing offenders to eventually function in society.
But she said the system can feel painfully unfair for people affected by violence.
"I think that we have to be respectful of people who disagree with the decision on that basis, but recognize that we've made a decision as a civilized country that we don't punish people who really didn't know what they were doing at the time of the offence, and really didn't know that they were doing something wrong, and that's a very, very small subset of people," she said.
Brought To You By The Bitch That cares The Most, Crazy Gurl...