Trump snubbed by Pentagon??? Oh hell yeah – The Pentagon, in a break with recent tradition, will not host an Armed Forces Farewell tribute to President Donald Trump.
It's a well deserved shame, but not a surprise. Trump will leave office in disgrace – just like Richard Nixon, one week after the House voted a second time for his impeachment, two weeks after his supporters (terrorists basically) staged a deadly siege in the Capitol Building, six months after he dragged his Joint Chiefs chairman into a political firestorm, and after four years of nonstop assaults on truth. One of those disgraces is how he is ghosting the U.S. troops that he commanded. No wonder Trump is being snubbed by Pentagon
Just this Wednesday, the White House announced that this weekend Vice President Mike Pence ?will deliver remarks to sailors on the Trump Administration's historic foreign policy achievements at Naval Air Station Lemoore,? and then to the 10th Mountain Division, in Fort Drum, New York. Two senior defense officials confirmed to Crazy Gurl on Thursday that no military farewell is being planned for the commander in chief.
Perhaps it's for the best. Trump has used the military as a political prop since his first days in office, from signing MAGA hats for troops to giving partisan-fueled speeches in the heart of the Pentagon. American's soldiers, sailors, airmen, and Marines have been forced to stand at attention for Trump's rants long enough. Besides, presidential visits are an honor and a headache for any military base that hosts them. The last time Trump appeared before troops was the Dec. 12 Army-Navy game at West Point. Before that, there was a brief Oct. 29 private visit with Army special operators at Fort Bragg, North Carolina, as he passed through on the presidential campaign trail. Simply put, the military is ready to be rid of Trump.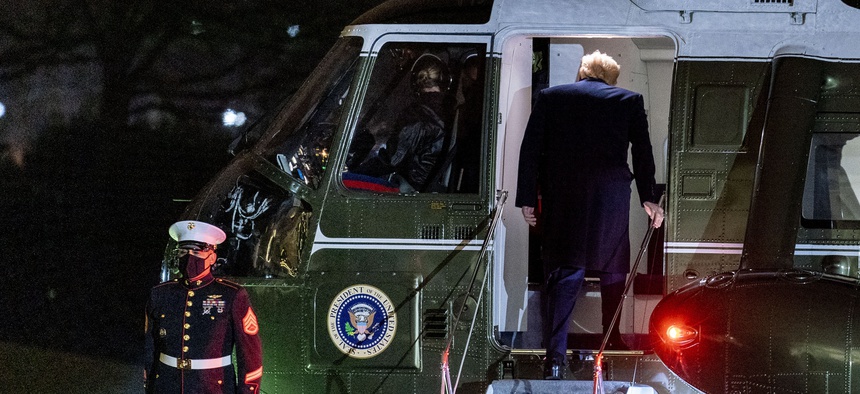 But we have experienced the fawning exuberance in the eyes of young service members thrilled to see real live presidents of the United States who visit them. That was never the case when Trump visits. There are ways Trump could have shown his respect to the millions of service members who put their lives on the line for their country (suckers & losers according to Trump). If only he could allow any moment to not be about himself. But the we couldn't enjoy Trump being snubbed by Pentagon.
How have previous presidents used their final appearances as commander in chief? The first Armed Forces Farewell hosted by the Joint Chiefs chairman and defense secretary occurred in 1989. Ronald Reagan turned the ceremony at Camp Springs, Maryland, into a celebration of the younger men and women in uniform he faced ? while also touting his administration's successes. Basking in the post-Cold War peace, Reagan noted that America had at last shed its post-Vietnam feelings about the military. ?The luster has been restored to the reputation of our fighting forces after a time during which it was shamefully fashionable to deride or even condemn service such as yours. Those days will never come again.?
Four years later, Reagan's successor received his Armed Forces Farewell at Fort Myer, Virginia, overlooking the Arlington cemetery. With Gulf War leaders Gen. Colin Powell and Defense Secretary Dick Cheney, George H.W. Bush urged the incoming kid from Arkansas not to cut defense spending.
Bill Clinton used his 2001 farewell to thank the troops for the ways ?we are closer than ever before to building a Europe that is peaceful, undivided, and democratic after the 1990s.? Flanked by Defense Secretary Bill Cohen, a Republican; and Gen. Henry Shelton, Clinton said, ?Thanks to you, arm-in-arm with our NATO allies, ethnic cleansing in the former Yugoslavia was ended, refugees have returned to their homes, and freedom has a chance to flower.?
And in 2009, President George W. Bush celebrated his intensely controversial Afghanistan and Iraq wars. ?Because of your actions,? Bush told the assembled troops, 'more than 50 million Afghans and Iraqis have seen the chains of despotism broken and are living in the liberty that the Creator intended. The new wave of freedom in the Middle East has made America more secure at home, because it is undermining the culture of tyranny that fosters radicalism.? He added, ?You'll be able to tell them the story of the first decade in the 21st century, their early days of a generational struggle against terror and extremism.?
What has Trump said about our beloved military?
In a conversation with senior staff members on the morning of the scheduled (he cancelled crying about non-existent rain) visit to the Aisne-Marne American Cemetery near Paris in 2018, Trump said, ?Why should I go to that cemetery? It's filled with losers.? In a separate conversation on the same trip, Trump referred to the more than 1,800 marines who lost their lives at Belleau Wood as 'suckers? for getting killed.
Trump tweeted a controversial Memorial Day message … to himself. "Happy Memorial Day!" Trump tweeted. "Those who died for our great country would be very happy and proud at how well our country is doing today. Best economy in decades, lowest unemployment numbers for Blacks and Hispanics EVER (& women in 18 years), rebuilding our Military and so much more. Nice!"
Regarding war hero John McCain's funeral Trump told aides, ?We?re not going to support that loser's funeral.? He also questioned why the flags were flying at half-mast, saying ?What the fuck are we doing that for? Guy was a fucking loser.? This aligns with past comments from Trump in 2015 about McCain, when he said, ?He's not a war hero. He was a war hero because he was captured. I like people who weren't captured.?
While standing at the grave of Robert Kelly (son of John Kelly, the then secretary of homeland security), who was killed in 2010 in Afghanistan, Trump turned to the others and said, ?I don't get it. What was in it for them?? A friend of Kelly said to The Atlantic, ?Trump can't imagine anyone else's pain. That's why he would say this to the father of a fallen marine on Memorial Day in the cemetery where he's buried.?
The Washington Post wrote that some sources verified that Trump has referred to Vietnam veterans as ?losers.? Given that in the past, he has said that avoiding sexually transmitted diseases as his ?personal Vietnam,? it's hard to tell what his priorities are, other than selfish.
n 2016, the parents of Captain Humayun Khan, who died in a car bombing in 2004, spoke at the DNC convention. Trump reacted, saying, ?If you look at his wife, she was standing there, she had nothing to say, she probably ? maybe she wasn't allowed to have anything to say, you tell me.?
So, for the first time since Reagan took office, the Pentagon is skipping the whole thing.Donald Trump is not getting a military farewell ceremony.
As the news reports, Vice President Mike Pence is off deliver weekend remarks to a group of sailors at a Naval Air Station, then he will drop by Fort Drum to extol all the achievements of the last four years to a group of soldiers.
And that's it.
It's not clear if this no-ceremony is not being held by the Pentagon's request or whether Trump has put the military on his hate list for failing to fly in and fight on the side of his supportive terrorist during the little attempted insurrection. We can guess that the fact Trump being snubbed by Pentagon will be a relief to troops, for sure!
In past years the ceremony has been held ahead of the date on which Trump's beloved ?very special? people stormed the Capitol, so it may just be that Trump was too caught up in coup planning to get around to this event. Or maybe the military just "had it up to here" with Trump's bullshit.
Whatever the reason, troops may be relieved of having to stand to attention one last time for Trump.
Want to advertise on CrazyGurl? For as little as $35 a month, we will add YOUR advertisement to a post related to your product or business! This is THE BEST price available for customized online advertising! reach out to us at info@mickeyc65.sg-host.com
Brought to you by the bitch who cares the most, Crazy Gurl